Sign Up Link
https://www.femscat.com/studio_index.php 
About Site
FemScat.com is a clip selling platform for scat fetish clips with some expansion into vomit, pee and fart videos. Models are women or couples who are independent creators rather than producers or studios so the porn available can all be classified as 'indie' or 'amateur.' Models create a page for their content and customers use the site to search for videos, add them to cart and pay. Videos are received as download links with a limited number of downloads for personal use only.
DISCLAIMER: I literally created and own FemScat.com. I am completely biased in opinion.
Payouts
Basic Structure:
Payout for Video sales: 70%
Payout for Tips: 80%
Any Payout method is free if you reach a certain minimum. This minimum is different depending on the payout method since these all have different fees. Models set their own minimum payout thresholds and can change them any time so are in complete control of this.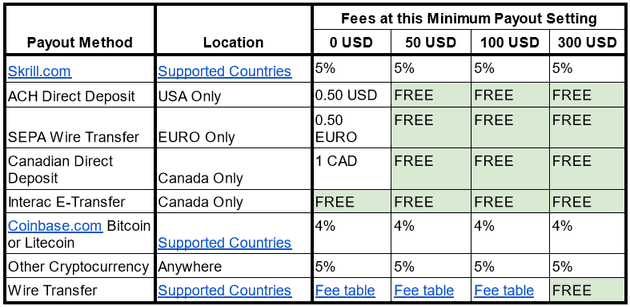 Links:
*To see Wire Transfer Supported Countries and Extended Fee Table, please scroll to the end of the post, it's a very big table.
Referrals, Affiliates and Bonuses
Currently, FemScat has no official referral system. In the future, active models will be able to link new models signing up for a flat, one-time bonus, taken from the site's cut, not the referred model.
FemScat has a small affiliate program for sites with a lot of traffic and users that may enjoy our site. This is a 5% affiliate link and applies to the user's purchases from any model's store. The 5% is not taken from models, rather from the site's cut. Models cannot apply to be affiliates unless they own a site that advertises far beyond their own content with significant traffic. 
To apply to be an affiliate, please contact info@femscat.com
Bonuses are offered to models during special events. So far, FemScat has offered to double pay up to 200 USD for Black models during February and transgender models during November. These months honour the sex workers that are simultaneously the most mistreated in the industry and have done the most for our collective rights. They expect to keep this tradition going as the site grows.
How To Sign Up
Use sign up link: https://www.femscat.com/studio_index.php 

Use the email and password you entered to sign in: https://www.femscat.com/studio_index.php 

Submit verification documents

You need a photo ID showing the name and date of birth for every person in every video. Do not blur or censor any part of the ID. Upload a picture of each side for ID cards
You need to confirm the address of the account owner if the payout address is not on the photo ID or doesn't match. You can use a screenshot or picture of something like a bank document, lease, utility bill, internet/phone bill, etc. that shows the name and address of the account owner

Choose your Payout Method and Minimum Payout

Upload an Avatar / Profile Picture

Name your Page (usually your model name)

Write a store description and list 10-25 keywords for your store

Upload and Post 5 clips that get approved by moderators
Support, Owners and Reputation
Models and customers can use the in-site support ticket system, emails, or messages on social media to contact FemScat support and get help or have their suggestions heard. Messages are currently checked primarily by the site owner and the social media manager, both of whom are active models on the site.
The sole owner of FemScat.com is CassieScat who is an active model on the site. Contractors are hired to help with the software development, moderation, support and social media management but have no stake in ownership. 
FemScat.com was built on the reputation of CassieScat who went public immediately with her creation and ownership of the site. It is funded by her personally. The reputation of standing up for models and strong model support are the biggest pillars of FemScat's reputation.
Pros
Model-owned
Established customer base and site that has been online for over a year
Rapid growth and expansion with model input
Strong model and customer support
Supports growth of models' personal social media accounts and allows linking in bio
Business transparency
Fully legal way to sell scat porn
Copyright protection of your content is the most heavily enforced of any scat porn platform in existence
Categories and a search bar helps customers find videos
Automatic video preview maker
Customers can tip any amount 10 USD or more on model pages
No sign up required for purchase for maximum customer privacy
Cons
No subscription services for videos

Customers cannot stream content

No messaging with customers

This feature is planned for the future

No direct support for custom videos or shipped items

Blood, including menstruation is not allowed in videos

Indie-only: third party producers or studios can not open stores

Exception for studios owned by female models who also appear in some or all videos and have good reputations for supporting their models

No male scat porn: men are only allowed as secondary models in videos starring women

Sign up and uploading process can be confusing for models, especially those who don't speak English

This feature will be improved in 2023

No free videos

Customers sometimes have trouble purchasing videos due to security restrictions from the payout processor
What is Allowed
Thank you to Sophie Ladder for much of the information used in this section. 
Her resources can be found here: https://sophieladder.com/files/
More about Sophie and her content here: sophieladder.com
| | |
| --- | --- |
| Fetish | Is It Allowed? |
| Scat | Fully Allowed |
| Pee | Fully Allowed |
| Vomit | Fully Allowed |
| Diapers | Fully Allowed - adults only of course |
| Blood | Not Allowed - cannot be visible, can be spoken about |
| Lactation | Fully Allowed |
| Asphyxiation | Allowed - no passing out can happen on camera |
| Bondage | Fully Allowed |
| Fisting | Fully Allowed |
| Weapons | Not Allowed |
| Incest Roleplay | Allowed - 'step' must be used |
| Drugs / Alcohol | Allowed - cannot be drunk or high while having sex, alcohol cannot appear on screen explicitly (no labels on bottles) |
| Age-Play | Allowed - no real children allowed, all models have verified their age |
| Kidnapping roleplay | Fully Allowed |
| Hypnosis | Allowed - use different words like 'mermerization' but can't use things like 'hypnosis', 'hypno', hypn0sis', etc. |
| Large / "Animal" Dildos | Fully Allowed |
| Animals / Bugs | Not Allowed - Animals are allowed in the background (cat walks through scene, aquarium in background, birds outside, etc). Animals cannot participate in the video actively or sexually. Animals / Bugs can be mentioned. No harm to animals / bugs can be visible or mentioned. |
Site Features
Feature
Currently
Future
Works on Mobile
Fully Functional on Mobile
-
Model Accounts
Model's Access a Seller Dashboard
The Model Dashboard will get new features in 2023
Customer Accounts
Customers do not need accounts to buy
Optional customer accounts will be added in 2023 to increase features for buyers
Customer Messaging
No messaging support. Customers can leave a message in a tip. Models can add contact information to their bio for customers to use
Messaging will be added in 2023
View Sales and Statistics
Models can view most recent 100 sales, lifetime sales by item and statistics on clicks, views and sales by day, month and year
Full website transparency documents will be released annually to disclose the traffic, sales and spending of FemScat as well as statistics on average and top model statistics done anonymously
Edit and Delete Listings
Models can delete videos as they wish from the dashboard and edit most features of a video
Ability to edit video previews after publishing will be added by 2024
Close Model Account
Models can request by support ticket that their account be closed and it will be done within 3 days. Accounts can be closed temporarily and reopened or closed permanently
A button to request store closure will be added in 2023
Social Media Integration
Models can integrate their Twitter and Reddit accounts. Models can generate tweets about their clips from the seller dashboard.
Automatic posting to model twitter accounts will be added by 2023. Integration with other sites and social media platforms will be expanded.
Model Privacy
Model data is kept in a secure and separate place as required by law and no more. Models experiencing issues with doxxing can reach out to support for advice and to have their account temporarily closed until they are able to open again. Models can request old advertising be removed for privacy purposes.
-
Piracy Support
https://fs-dmca.web.app/

A program exists to submit DMCA copyright takedowns for model content with FemScat acting on the Model's behalf, keeping the model's real name private.

Wherever possible, FemScat will hire lawyers and take swift legal action against users who threaten the privacy or livelihood of models.

Optional watermarking done to videos uploaded to FemScat is planned as an added feature by 2024.
Model Tips / Donations
Tips are enabled on FemScat for any amount 10 USD or greater. Tips to not entiltled the customer to anything, they are considered gifts.
An option to leave an email address with their tip will be added for customers in 2023. Right now they can add it with the message, but some forget to
Custom Videos
Some models have customers who want custom videos. They discuss the idea off site and pay for them through the tipping feature. This is allowed but considered unofficial. This is done at the customers risk since tips are considered free gifts.
An official system for custom video ordering will be added by 2024.
Shipped Items
Some models have customers who want shipped items. They discuss the idea off site and pay for them through the tipping feature. This is allowed but considered unofficial. This is done at the customers risk since tips are considered free gifts.
There are no current plans to have shipped items added to FemScat.
In-site Advertising
Spots exist on the home page to feature top clips and top models to recognize their achievements, as well as spots for new models and the latest updated clips to give growth to smaller stores and support models who actively upload.
Monthly themes will be introduced in 2023 to further give opportunities for smaller creators to get visibility on the FemScat site.
Off-Site Advertising
FemScat pays for advertising of every model's videos on Twitter, Reddit, KinkyScat.com, and elsewhere online
An Affiliate system is being made to encourage high traffic social media accounts and webpages to advertise for FemScat. The cut will come from the owner rather than the models.
Preview Maker
Previews can be automatically generated for videos if models do not want to upload their own preview.
-
FTP Support
FemScat supports bulk content uploading using FTP.
-
Traffic to your Page
FemScat has a large user base and models with no existing fans will get traffic to their store by signing up and through regular uploads.
-
Trans Model Friendly
Trans Women and Non Binary Models who feel they belong on the site are allowed to make Model accounts on FemScat. A Transgender category accompanies these videos.
-
Male Models
Trans Women and Non Binary Models who feel they belong on the site are allowed to make Model accounts on FemScat. Male Models may participate in videos as secondary models but may not have their own account or make solo videos.
-
Studio Accounts
FemScat does not allow studio/producer accounts. The owner of the video must be one or more of the women in the video and they must be the owner of the Model Account.
Studio accounts will be granted to studios owned by women who are also models appearing in some or all of the videos and have a good reputation for treating their sub-contracted models well.
On Demand Payouts
Payouts are done automatically on the 1st of the month if the model's minimum payout amount is reached by the last day of the previous month. Payouts can be made on demand in exceptional cases by asking for help from support staff.
-