FemScat Transparency Report 2021-2022
For a more heavily formatted version of the original report in the form of a google doc, please follow this link:
https://docs.google.com/document/d/1a9rkwato1P89Rodzn86S-k9aVpAusAdWnQeDmjN-GZg/edit?usp=sharing
---
FemScat Annual Retrospective and Transparency Report 2021-2022
by CassieScat
---
Intro
FemScat.com first went live on August 27th 2021 where it was tested by me, the first model and owner, CassieScat. Once I had made sure the site ran smoothly, FemScat was open for other models to join in September 2021 - its first month fully open for business!
September 2022 marked its first full year online and available to the masses and I would like to start a tradition of annual reports in September for current and future models and customers to read and see how the site is doing and where the percentage taken from model pay goes. 
As always, if you have any ideas for more things to include in this report in the future, please feel free to message me about it at my personal or my femscat emails: cassie5221@gmail.com info@femscat.com
Table of Contents
Overview

FemScat Growth

Social Media Growth

Twitter Growth
Reddit Growth

About Our Users

Who Are Our Users
How Our Users Find Us
What Do Our Users Like

News and New Features

FemScat Site Features
FemScat Achievements

What New Models Can Expect

Top 5 Models this past 31 days
All Stores That Posted 1 or More New Videos This Past 31 Days
All Open Stores This Past 31 Days

How Funds and Payouts are Spent

Conclusion
Overview
This past 12 months:
New Users: 178 216 - 566 135 (different analytical estimates) Paying Customers: 2359 Average spend per Customer: 50 USD Total Sales Revenue: 118 372.62 USD Videos sold: 9469 Total Models: 102 Total Videos: 4203
Total Twitter Followers: 13 843 Total Twitter Posts: 849
Total Subreddit Followers: 9725 Total Subreddit Visits: 906 586
FemScat Growth
Since FemScat is only a year old, I can only show you the month-to-month growth, but in the future, this section will compare numbers with previous years too.
Here is the month-to-month growth of gross sales revenue for FemScat.com from the very beginning the the last complete month, August 2022. Numbers are in USD: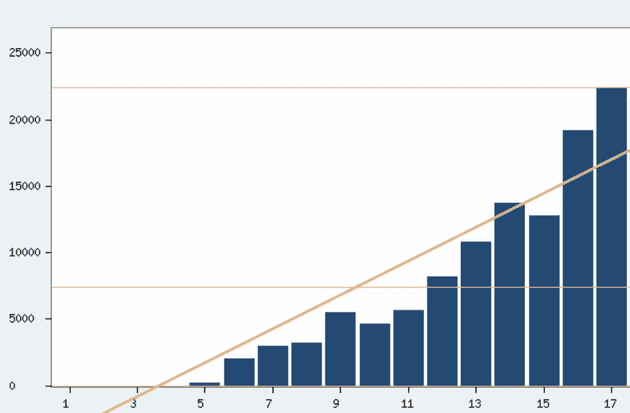 Nearly every month has been better than the last, with sales doubling from April to August. Look at the trendline and imagine where we will be next year! Very exciting figures.
Monthly New Customer Estimates:
June: 200 July 250 August: 285
Each month we get many new customers, and the amount we get is more and more each time.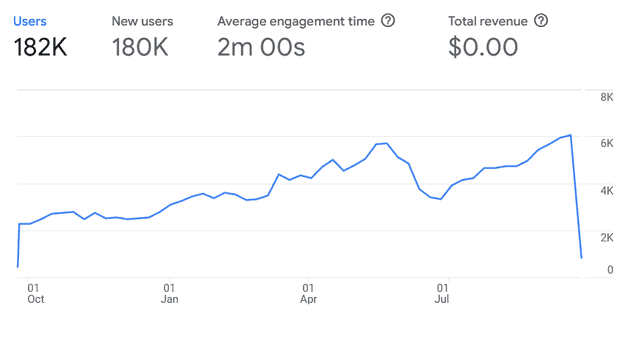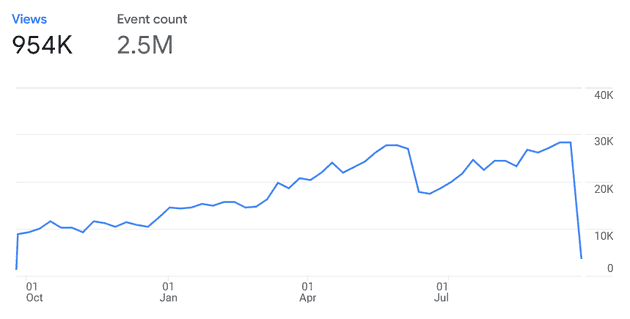 Keeping in mind the visual drops at the beginning and end are due to incomplete data, FemScat has grown in users and page views very steadily with a dip in growth in July but overall steady figures. This means nearly every month we grow faster than the month before.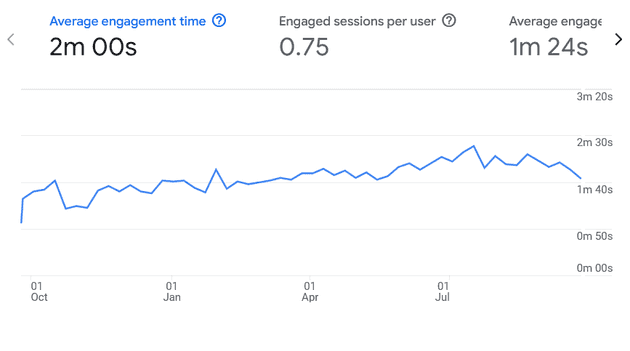 This chart shows how long each user spends on the site before closing the page. People are staying longer as time goes on, likely because there is more content and there are more models to explore. It's good to be holding interest better.
Social Media Growth
Currently, FemScat advertises models using the following methods:
Twitter posts about every video to @FemScatVideos and @KinkyScatVideos
Retweets of all model tweets that tag @FemScatVideos
Reddit posts of every video to /r/FemScat, /r/poopingvixens and /r/scatselling
Blog posts to KinkyScat.com of every video
Link sharing deals with other sites like theporndude.com and nichepornsites.com
Every post about a FemScat video includes the tag of the model if she is on that platform or her model name if not. It also includes a link to the video so interested customers can buy it. If the model is tagged, users can also click through to her account on Twitter or Reddit and will likely follow her there.
I used my personal backup Twitter to start the Official FemScat Twitter account so it would have over 1000 followers to start instead of 0. @KinkyScatVideos is being built up from nothing and will be our backup should anything happen to the original.
Currently, I am working to obtain new Twitter accounts with existing followings interested in scat as a way to grow the business and to serve as further backups.
If you or any friend is looking to exit the industry permanently and has a Twitter account for scat content, please consider selling it to FemScat instead of simply closing it. Business inquiries like this can be sent in DMs or emailed to info@femscat.com
Twitter Growth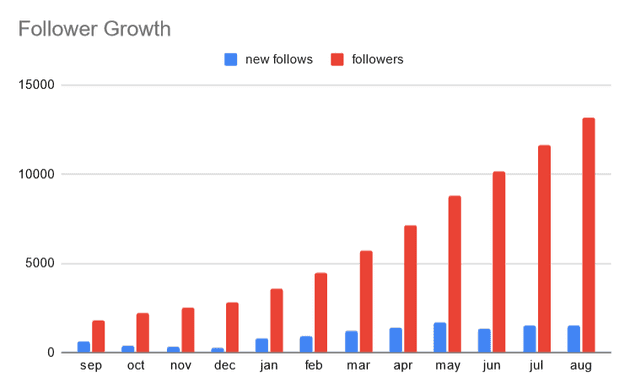 As you can see, both the number of followers and the rate of growth show steady increase. We use a combination of a twitter bot to post about new videos, a social media manager to create tweets (thank you @sluttyeviltwin!) and retweets of models to keep a steady increase.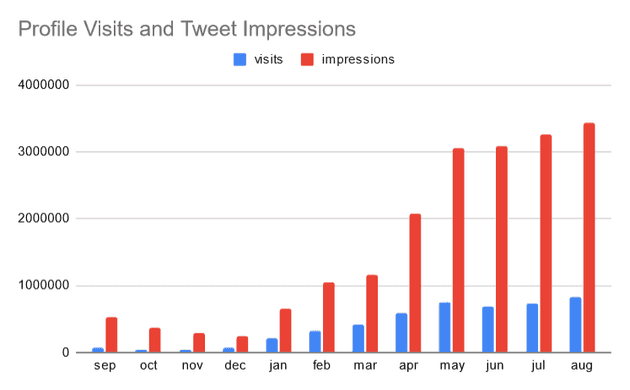 While we have grown a lot and our twitter account has gotten more views to match the increases in followers, the tweets we are making are also getting more attention per tweet. Impressions measure how many times a tweet has been seen, including in search results on twitter or google and including if people go back to look again. We get lots of views on our tweets from people that don't even follow the account, which is great for growth and attracting new customers.
Reddit Growth
/r/FemScat is our official subreddit with /u/FemScat and /u/FemScatBot being the Reddit accounts we own. Reddit is where I personally started my career as a scat model so I firmly believe it is a great place to advertise and grow.
/r/FemScat runs mostly as a bot that creates posts for every new video. The video is linked and the model is named, including her Reddit handle if she has an account. Like Twitter, publishing videos on FemScat is a great way to grow your following on Reddit.
Due to a bug on Reddit, the subscriber growth for our subreddit is not available. I can say that in February we had about 2000 subscribers and now we have 9725 with 1588 new subscribers in August 2022 alone. I look forward to better data for you next year.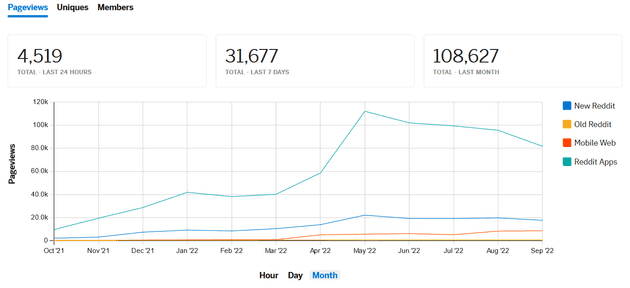 Here we can see the increase of views of /r/FemScat over a year, with a big jump from April to May. Most users are on their phones which remains true for how the average person consumes porn today. Good thing FemScat.com is fully usable for models and customers on mobile!
About Our Users
Who Are Our Users
Primarily, our users are English speaking and mostly live in the United States of America. We also have users all over the world who watch videos in all languages. Many English speaking customers will buy videos from models who speak a different language. It's sexy to hear your voice even if we don't know what you're saying!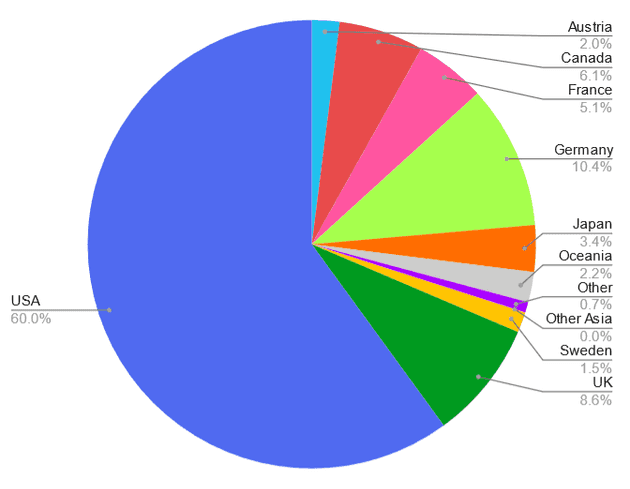 German and French speaking customers likely score the next biggest for our user base, then Japanese.
How Our Users Find Us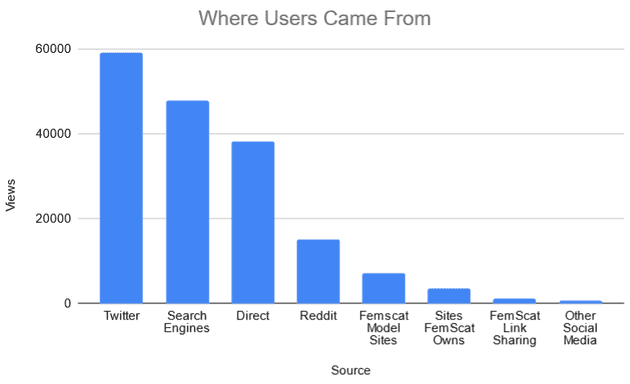 Above is a breakdown of the biggest sources for our customers to come from, parsed into categories.
"Direct" means the user typed the site right into their browser.
"FemScat Model Sites" includes the personal web pages of models with most being from link sharing sites like linktree and allmylinks.
"Sites FemScat Owns" means all the webpages owned by me, CassieScat.
"FemScat Link Sharing" includes sites I have made agreements with to put a link to our site, including published interviews where I ask that FemScat is linked.
Below, you can see the more detailed breakdown of all the sources with 10 or more users sent from them. Twitter is a HUGE part of our networking!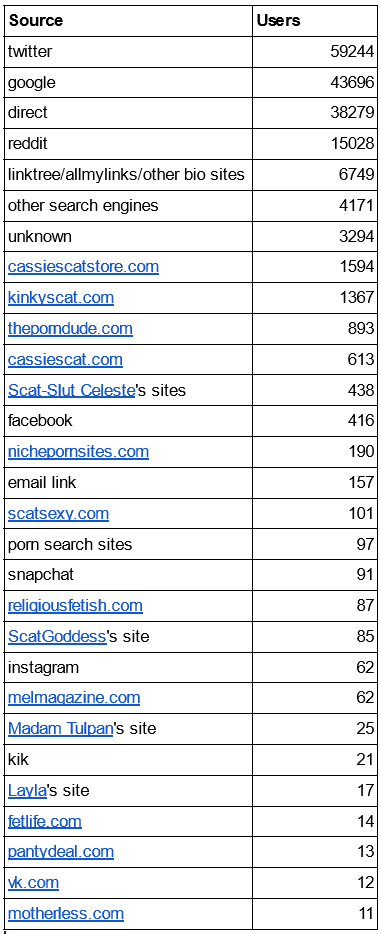 What Do Our Users Like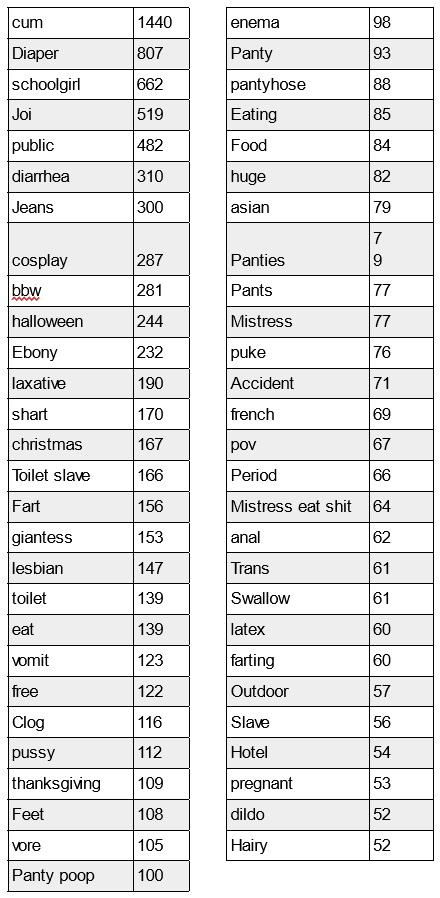 Using this information as a model is very important. Be sure to include terms like these in your video titles, descriptions or keywords if they apply to your videos so your videos appear in the search results.
For example, every video of yours that shows a hairy pussy should include the word 'hairy' somewhere, even in the keywords only. I am going to start including this since I never shave my bush!
And seeing how popular 'cum' and JOI are, it might be smart to make more videos with jerk off instructions for the viewer that end in a 'cum countdown' and to write about these things in the description.
Do not abuse this information and incorrectly label your videos. A model who is not black for example using the keyword 'ebony' in all her videos will have those videos removed until they are fixed and on repeated offences will be unable to have a FemScat store anymore.
News and New Features
Everything was new this year but I will list some of the more recent improvements and expansions that have taken place that I think it's important for models to know about.
FemScat Site Features
Models can add links to their store bios easily now, including social media sites, personal sites, their email address and other selling platforms.

Other platforms do not allow communication outside the site or for you to redirect customers but we don't fear competition.
As a model, I always hated these rules and think it's smarter for models to have many income streams instead of just one.

Action against video piracy sites

We implemented a system to help models send out DMCA requests to sites that are posting their videos from FemScat. Many models don't know how to do this, or don't do so because it requires you to say your personal information. Using this tool, as long as the video is for sale on FemScat, we can help you and you can use our information instead.
https://fs-dmca.web.app/ this is that app
FemScat Achievements
Legal Action

This year FemScat took legal action against widely known video pirate NightGhast who operated on ThisVid, Twitter and Telegram primarily.
Other sites he stole from, like OnlyFans, ScatBook and ScatShop, ignored models, but as soon as I heard about it, I gathered information (with aid from models and hired help) and I found a lawyer to represent us
Today, his Twitter is being repurposed for model advertising and his Telegram channel with thousands of videos and viewers is gone.
The case is still being settled and an update will be provided once it is done. The law is very slow.
More cases are being formed against people buying your videos to resell them. This IS illegal of them to do this to you and breaches the Terms and Conditions of FemScat.com
Any money awarded from these legal proceedings will first be used to pay the legal fees, then, if any is leftover, will be used for future cases and split among those models who were hurt.

KinkyScat.com

A new site is being slowly created as a community resource for models (KinkyScat.com! You're on it now!)
So far it serves to advertise FemScat videos and models
In the near future it will host resources for models like information on scat fetish sites and tips and tricks for selling and advertising
What New Models Can Expect
As of this most recent month, here are some statistics that might help new and existing models see how others are doing and what they can expect depending on how many videos they post regularly.
Top 5 Models this Past 31 days
Average Monthly Payout: 1451.09 USD Average Total Videos in their Store: 113 Average New Videos Posted this Month: 10.3
All Stores that Posted 1 or More New Videos this Past 31 Days
Average Monthly Payout: 241.15 USD Average Total Videos in their Store: 59.1 Average New Videos Posted this Month: 7.2
All Open Stores this Past 31 Days
Average Monthly Payout: 164.63 USD Average Total Videos in their Store: 41.2 Average New Videos Posted this Month: 4.7
This information shows that the best way to make more money is to have lots of videos in your store and to post regularly. Posting new videos gives your customer more things to buy and also puts your clips on the front page as a 'recent upload' which gets new customers to notice you.
How funds and Payouts are Spent
Nearly all purchases are videos rather than tips so for now let's work with the 70% payout that models get to break down the costs of running the site.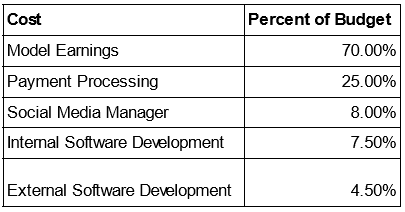 Adding these costs up, you'll see that they add up to 115%, meaning at the end of the day, I personally take home no profit from this site and actually spend quite a bit of money to run FemScat. If I could pay you more I would.
To explain some of these cost, I'll break down the categories:
Model Earnings: Models are paid 70% on video sales. Nearly all models choose to set their minimum payouts so that their payout is free meaning they get the full 70%.
Payment Processing: This is a combination of the amount I pay in fees whenever I pay a model, usually between .05%-4% of what I am paying them, with 1.5% being my guess at the average. Most payouts are done through Wise.com where I hold accounts in EURO, USD and CAD to save on fees.
The rest is from what I pay to allow FemScat to accept customer payments. It is very difficult to allow visa and mastercard to be used for buying porn and even more difficult and expensive to have them used for scat porn. Therefore the fees are very high. I have plans for next year to use our success and reliability to negotiate better rates with our main payment processor, Inet-Cash. In August they charged 23.5% of the site's earnings.
Social Media Manager: Our own model MySluttyEvilTwin is our hired social media manager and also helps with customer service, moderation and model support. She is paid 22 CAD/hr and works over 100 hours monthly to grow the site. Although I will continue to expand hired help as the site grows, and she will get a raise someday for her hard work and expertise, this is a fairly fixed cost and will probably lower in percentage as we grow.
Internal Software Development: These costs are fixed at 7.5% for the lifetime of the website. This pays for the servers to hold your video files and keep the site running as well as all the software used on FemScat. In addition, this goes towards a developer who makes new features on FemScat and fixes bugs. We use the same software developer as Yezzclips.com for this.
External Software Development: This is to cover another software developer who creates promotional tools that are external to FemScat.com. This includes social media bots on Twitter and Reddit, KinkyScat.com, the DMCA app and more. We use the primary developer at Voxa.dev for this.
Note:
Since it's not a regular monthly cost and since it was such a massive expense, legal fees to pursue video pirates came from my own personal savings and will hopefully be covered by the end of the matter by the man who stole from us all.
Similarly, FemScat ran and will continue to run bonuses for Black models in February and transgender models in November. These bonuses are varied so are impossible to include in a useful way.
Conclusion
As many of you may know, I am a model first. It was never my dream to run a platform. The first time I ever took another model onto my own site was because she was a friend and had been kicked off of ScatShop with no other place to sell effectively.
This whole site is not a responsibility I cherish, in fact I find it very stressful that my own mistakes can affect so many others now. This site's predecessor, cassiescatstore.com, was started out of anger and spite after my public takedown campaigns against ScatShop.com when I learned of how they were stealing from all their models and were especially targeting those with small followings who were poor and didn't speak English. I was so angry when I saw how the owners treated me was very different from the verbal abuse and theft they inflicted on smaller models. I left the site, to my own financial detriment and began to build other options for models.
Today, although more sites exist, like ScatBook and Scatsy, that do not steal from models, I believe more options creates more honesty in the industry. Right now I believe FemScat is the perfect balance of a well-functioning site that is honest and supports models with a large customer base and massive growth in our future. I will continue to run the site in a way that honours this belief.
I will never forget this group of models who joined when we were our smallest and believed in the change I wanted to create. Although this site was created out of anger and desperation, I now feel passion and pride and community when I sit down to work.
Thank you for everything,
CassieScat | FemScat Model and Owner